2013-05-02. Tahoe's San Rafael Mine Conflict leads to State of Siege.
 San Rafael Las Flores, Santa Rosa, and Mataquescuintla, Jalapa, Guatemala.
May 2, 2013.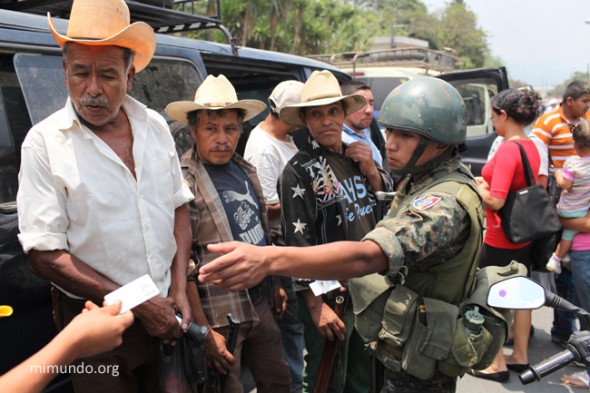 Images from the first day of the declared State of Siege in the municipalities of Casillas & San Rafael Las Flores, Santa Rosa, and Mataquescuintla & Jalapa, Jalapa. A violent mining conflict in the region involving Vancouver-based Tahoe Resources has erupted this week resulting in a State of Siege where numerous constitutional rights are suspended for 30 days. The conflict erupted on Saturday April 27th, when the mine's security personnel shot six protesters who were on their way to participate in a peaceful protest camp outside the mine. Despite the violence and community consultations that have taken place in the past few months where nearly all the population has voted against the mining project, the official accord was signed by president Otto Perez Molina on Monday, April 29th. On Tuesday, April 30th, during a confusing incident, local residents held hostage 23 National Police Officers. During an ensuing scuffle, one officer was shot dead and four patrol cars burned. Today, the government officially declared a State of Siege and placed arrest orders against numerous residents, including local leaders who have been active in peaceful and legal resistances against the mining project.
San Rafael Las Flores: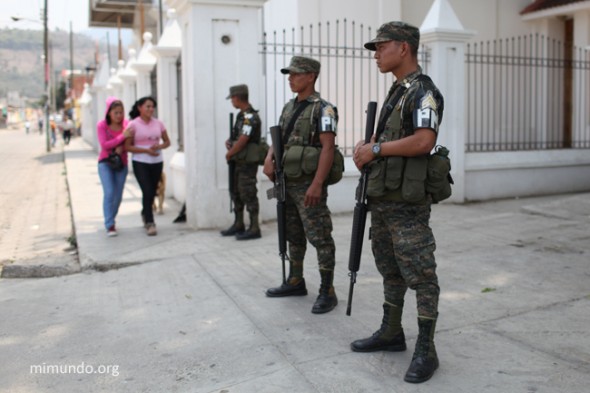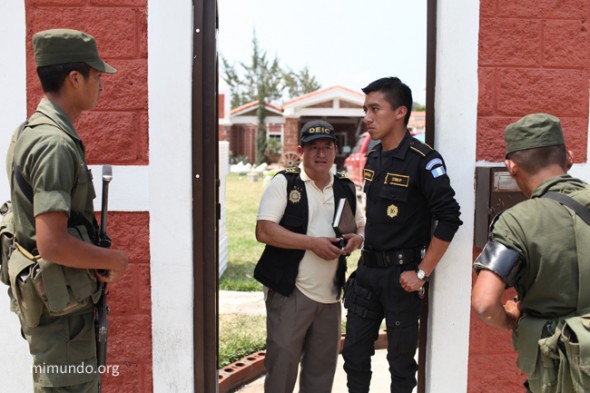 Officers from the Specialized Criminal Investigation Division exit the home of a local person being held.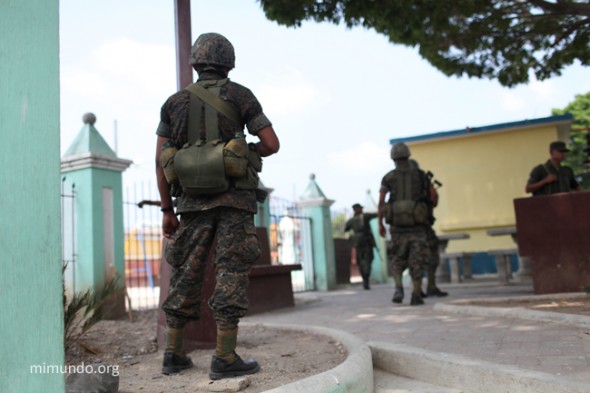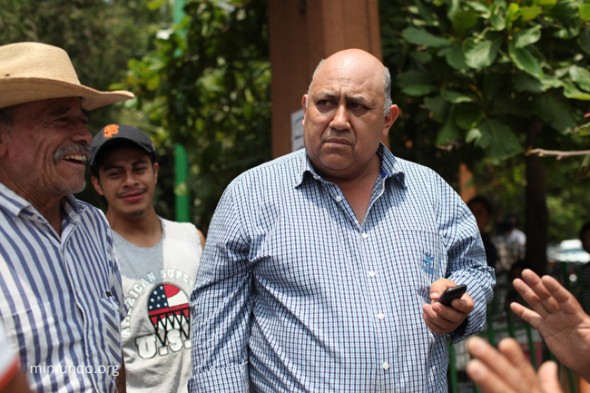 Mayor of San Rafael Las Flores, Leeonel Morales.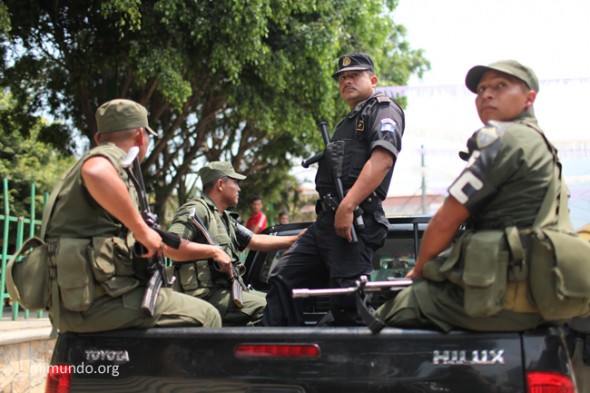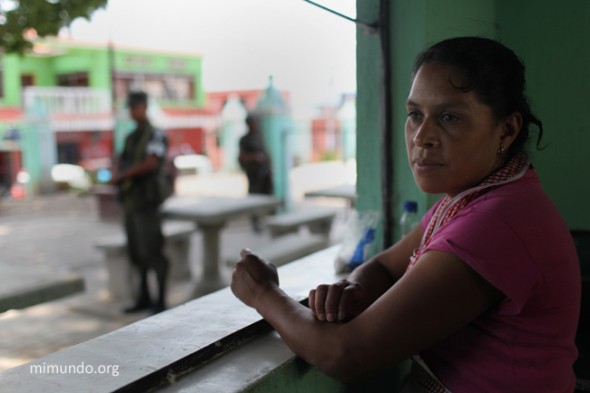 Gloria Marina Caute, 40, from Mataquescuintla, laments the presence of the soldiers in the central park of San Rafael Las Flores: "My business has gone down. Everyone is afraid."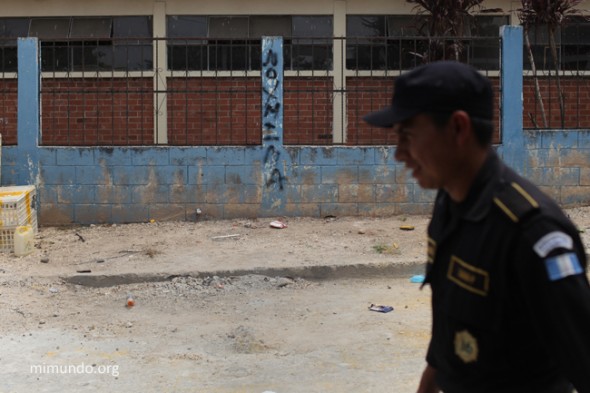 Sign reads: "No more mine!"
Mataquescuintla, Jalapa: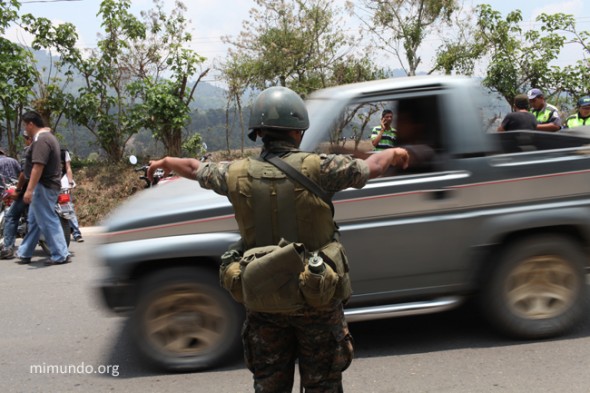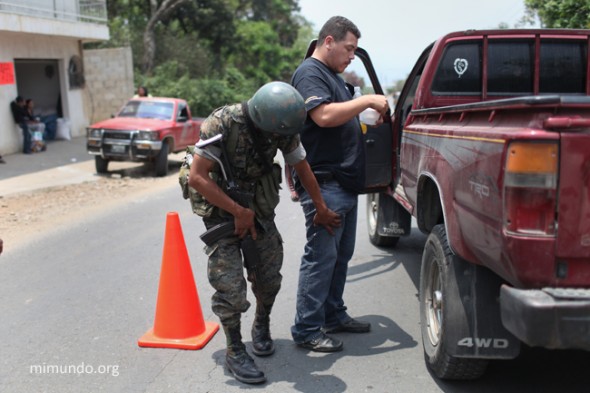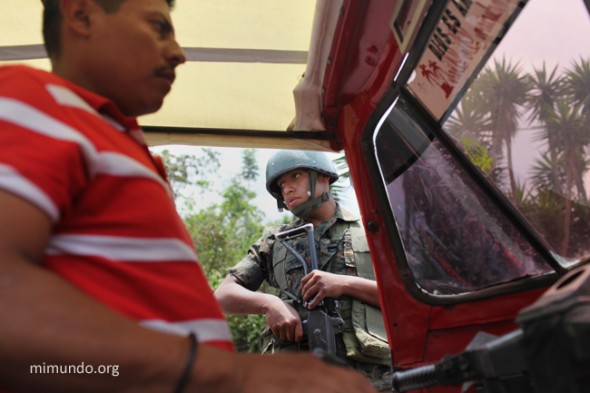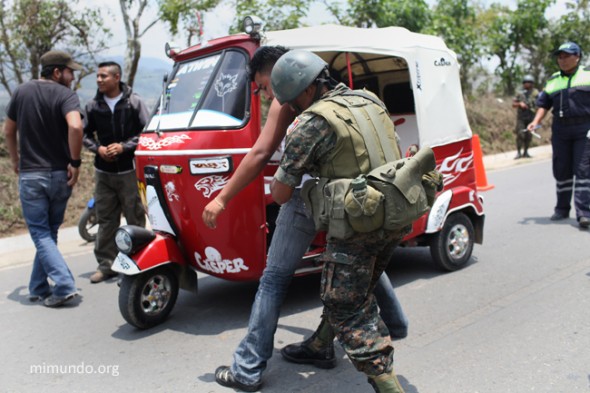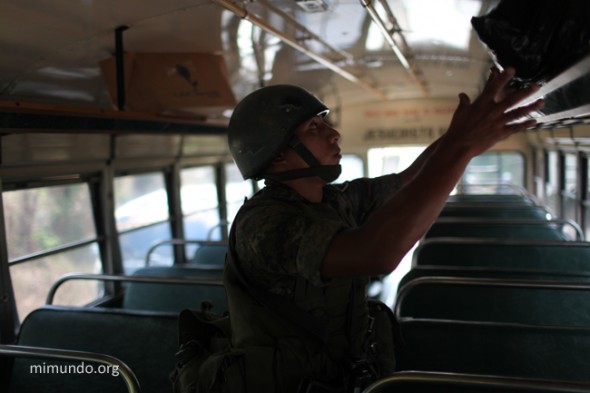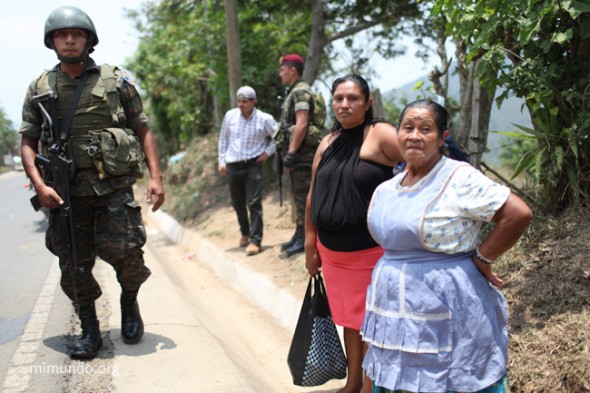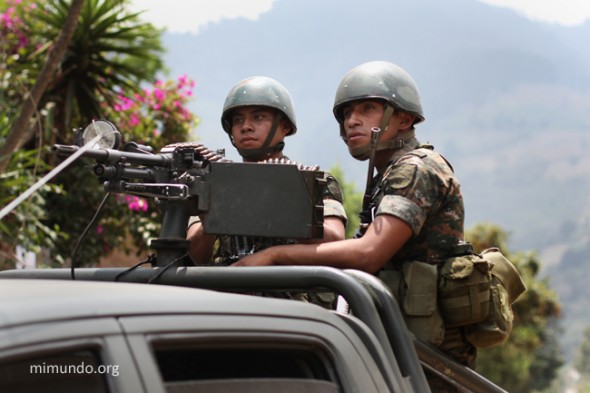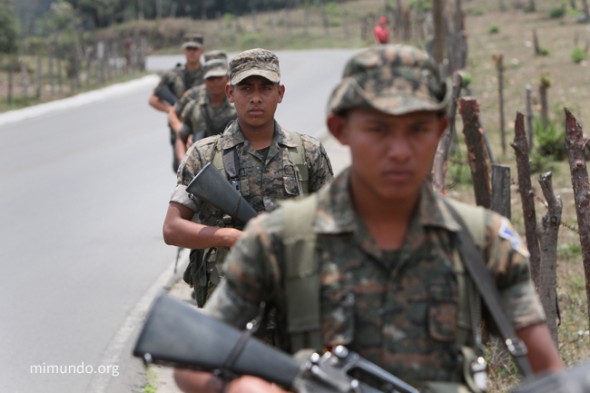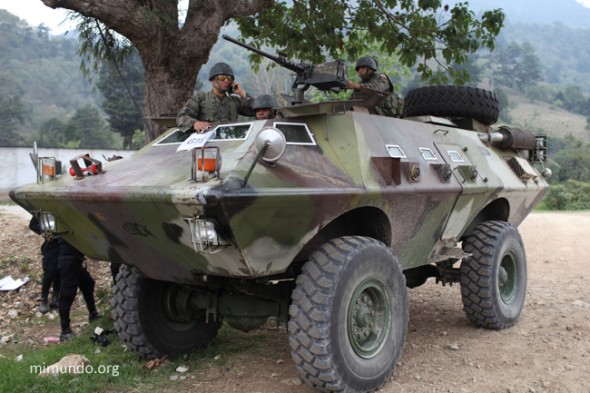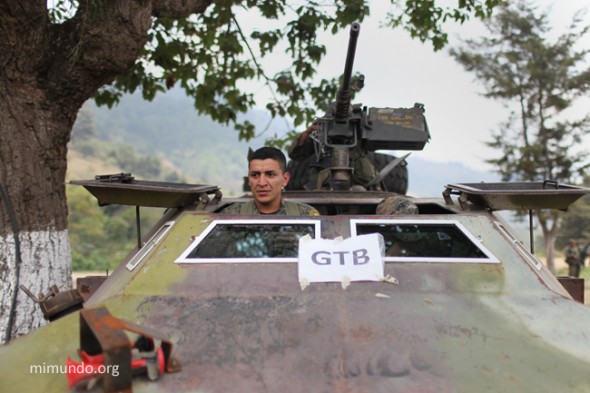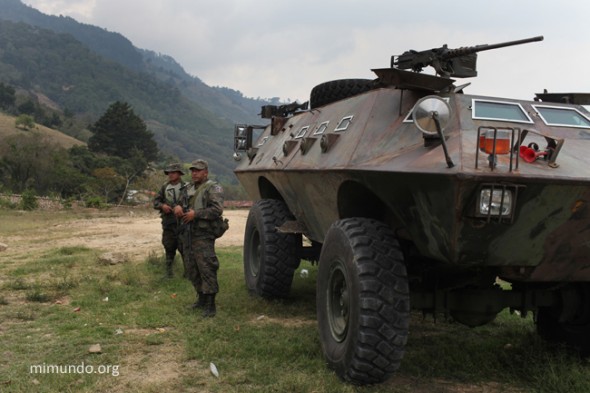 Laguna del Pito Hamlet, Jalapa: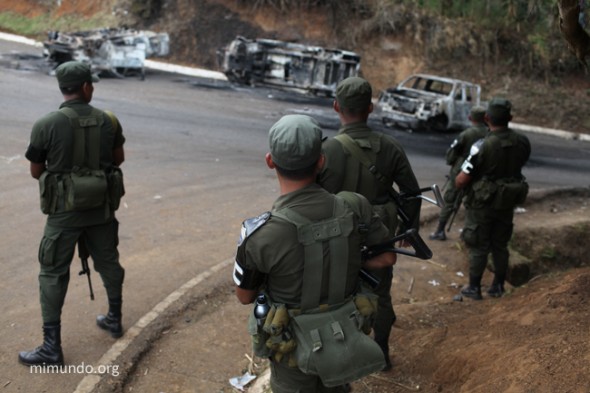 Soldiers watch the police patrol cars burned on Tuesday, April 29th.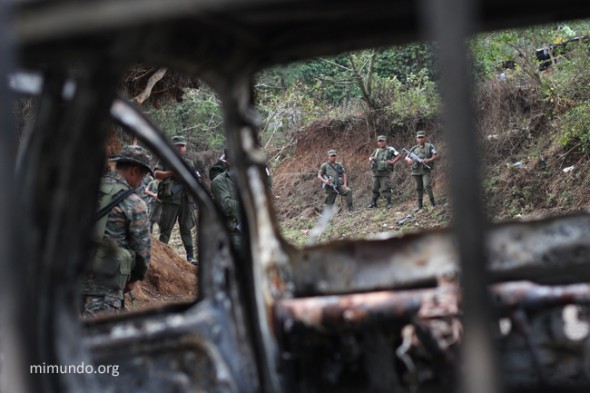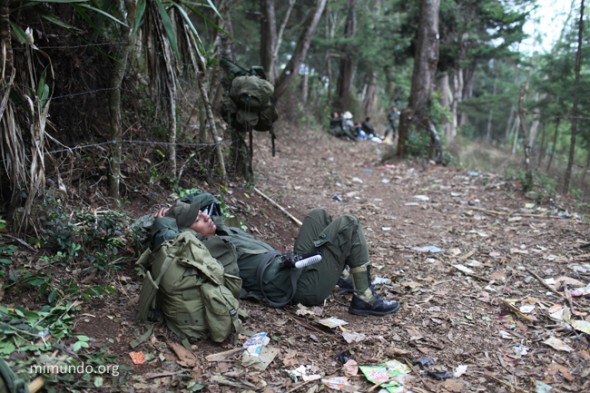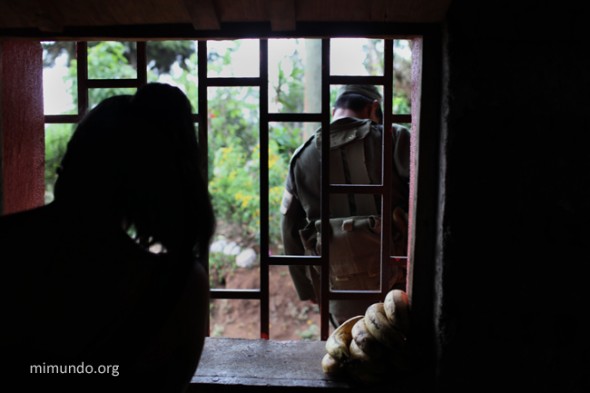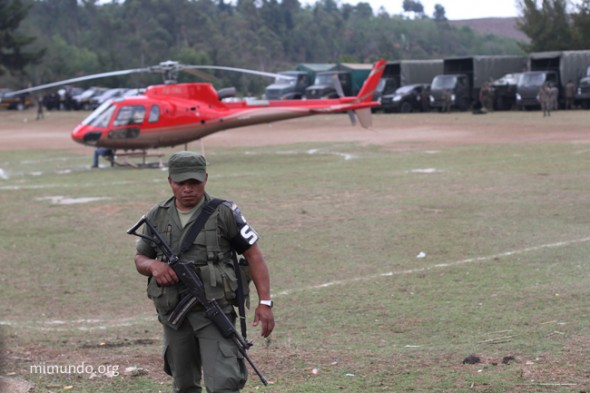 Previous photo essays on San Rafael Las Flores:
2012-03. Goldcorp's Legacy: Criminalization and Mining Resistance in San Rafael Las Flores
2012-07. In San Rafael Las Flores and my House, the Mine does not Pass
Excellent investigative report by Sandra Cuffe: State of Siege: Mining Conflict Escalates in Guatemala
To license images, please follow these instructions and download from this gallery.
Version en español aquí.