To license an image for web and/or print editorial:
a. Create a login and/or sign in here.
b. Go to Photo Galleries and select the image desired, or search images under the Photo Galleries menu → Search Images.
c. After pressing the "Editorial License/Order Print:" button, the following screen will appear: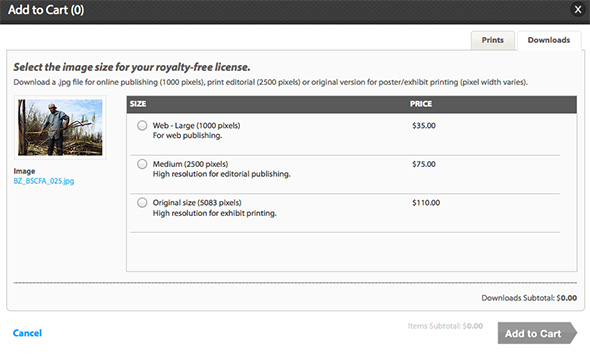 -Make sure you select the Downloads tab on the upper right.
-Select web (1000 pixels wide), Medium for Print Editorial Publishing (2500 pixels) or Original size for Exhibits and Posters.
-Press Add to Cart
-Continue shopping or Check out
d. Once "Check Out" is pressed, add coupon code (if applicable), press submit to apply the discount, and proceed with check out.
e. Review and continue. Payment can be done currently only with a Credit Card.