2015-10. Exhibit. Push Factors: Guatemalan Migration in Perspective. Washington DC.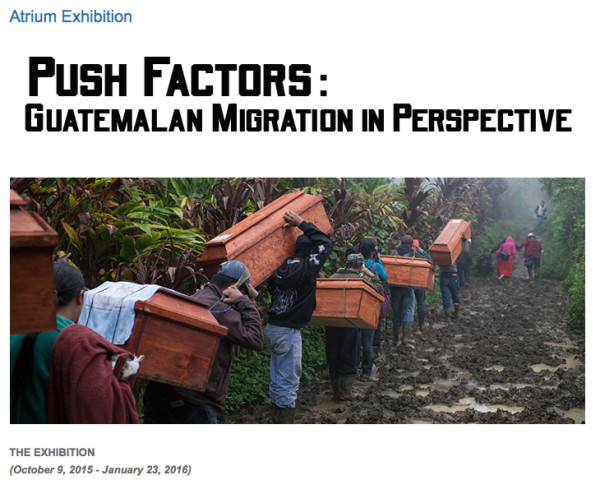 An itinerant joint exhibit with images from Rodrigo Abd, William B. Plowman, and James Rodríguez, produced by Heidi McKinnon from Curators Without Borders.
The exhibit's first venue is at the Atrium of the Corcoran School of the Arts and Design at the George Washington University, in Washington DC, from October 9, 2015, until January 23, 2016.
"Push Factors: Guatemalan Migration in Perspective is a photographic exhibition offering an intimate perspective of socioeconomic conflicts and political pressures driving migration from contemporary Guatemala toward the U.S…
"It will immerse visitors in the realities of life in Guatemala during the post-war 2000's: 'Resource exploitation, genocide, poverty, drought, femicide, gangs, corruption, and racism have coalesced into an architecture of institutional violence in Guatemala, the framework of a failed state, and the push factors for migration…'"
Photo: William B. Plowman