2014-03. La Puya: Two Years of Peaceful Resistance Against an Unwanted Gold Mine
La Puya, San Pedro Ayampuc and San José del Golfo, Guatemala, Guatemala.
February 26th to March 2nd, 2014.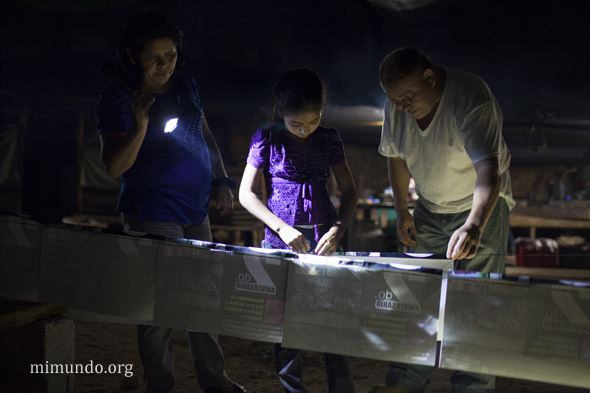 Only a few miles north of Guatemala City, the peaceful resistance at La Puya against the El Tambor gold mine celebrated its second anniversary. Since March 2nd, 2012, local neighbors from San José del Golfo and San Pedro Ayampuc have maintained a 24-hour blockade into the mining project owned by Nevada-based Kappes, Cassiday & Assocaites (KCA). Despite continuous threats and an assassination attempt on a local leader, community members continue their resistance as they claim the industrial activity in their territories is illegal since they were not appropriately consulted before operations began.

Feb. 26, 2014: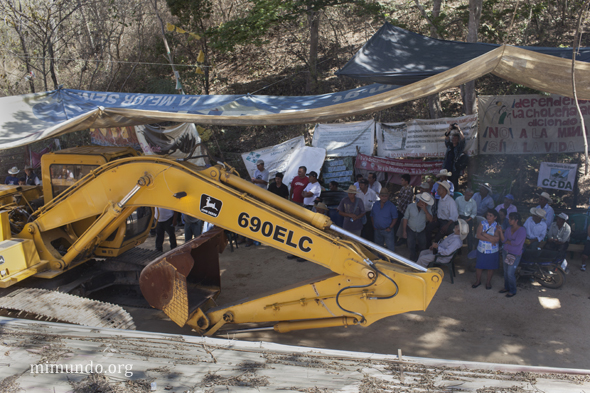 During the week leading to the second anniversary of the movement, Guatemalan heavy machinery company P&F Contratistas broke its contract with KCA and removed all its machinery from the mining site. P&F cited lack of payment by the U.S. mining firm since October 2013 as the reason for its actions.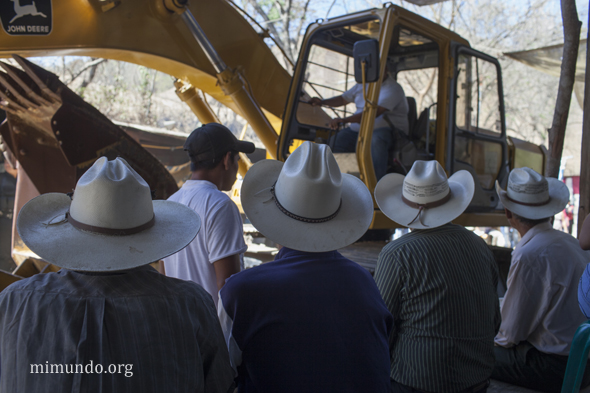 The removal of the heavy machinery is undoubtedly a blow to KCA's project. Local leader Alvaro Sandoval declared P&F's actions as a direct result of the resistance movement.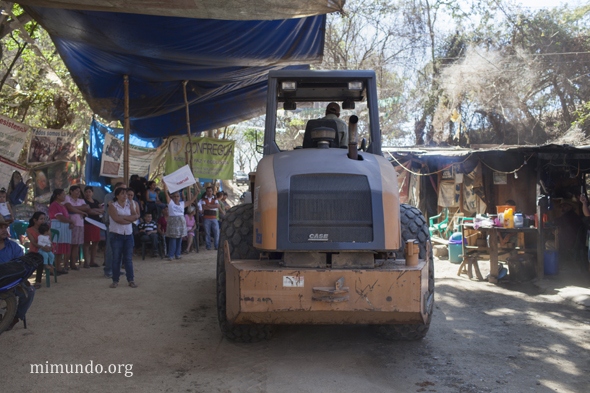 Nevertheless, according to analyst Luis Solano, the El Tambor mine represents a "Three to Four hundred million dollar business for local and foreign investors to lose." The importance of the project for certain financial sectors was immediately made clear by Jorge Zepeda, president of Guatemala's Chamber of Industry. Interviewed by ElPeriodico on the day the machinery was removed, Mr. Zepeda declared: "the mining project will go on. [P&F] broke the contract since the machines had been sequestered by a group of troublemakers and pseudo-community leaders who did not allow the machinery to operate." (1)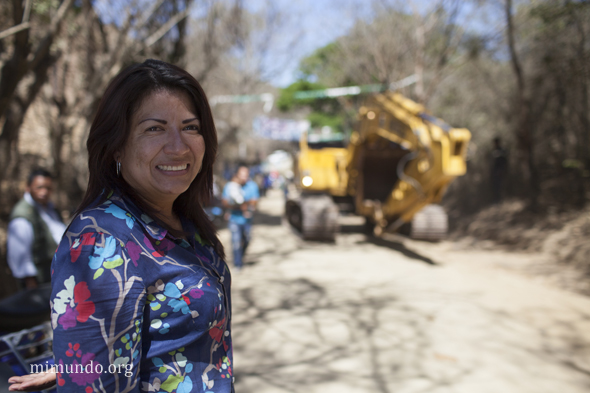 Community leader Yolanda Oquelí smiles as she watches as the machinery leave. "Yes, we are happy" she states, "and this is definitely an achievement. But we must be wary now of reprisals and continue our peaceful struggle." On June 13, 2012, Yolanda, a mother of two, was shot twice on her way back home from La Puya due to her involvement in the movement. She survives with a bullet lodged millimeters from her spine.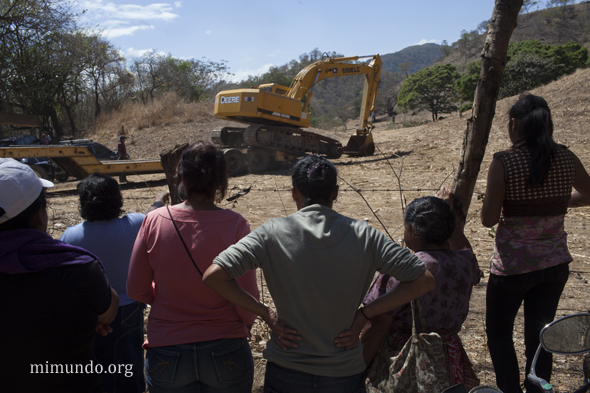 Locals watch as an excavator is loaded onto a heavy machinery vehicle.
March 1, 2014: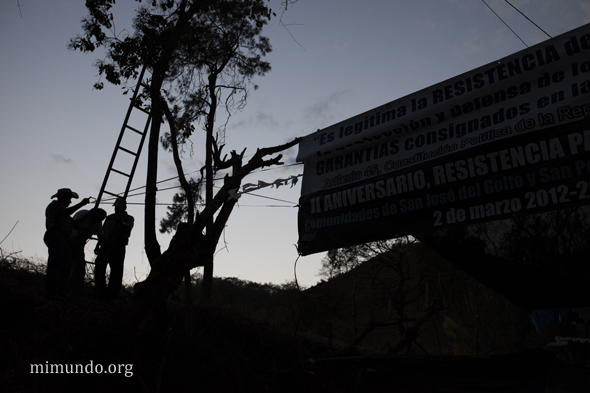 The eve before the second anniversary, members of the resistance gathered in La Puya to decorate and prepare for the following day's events.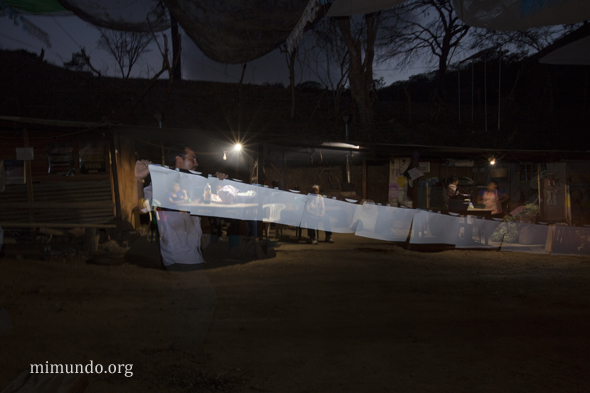 Alvaro Sandoval, from La Choleña, helps hang banners.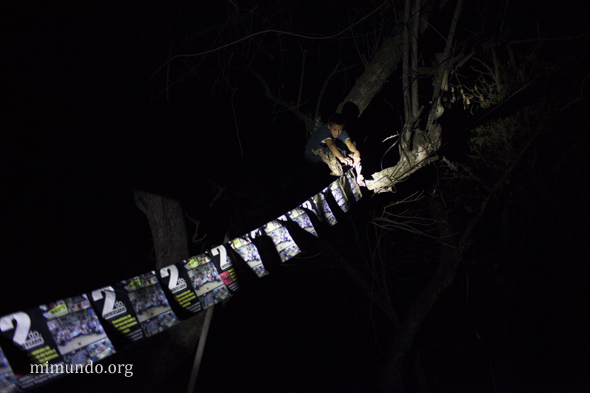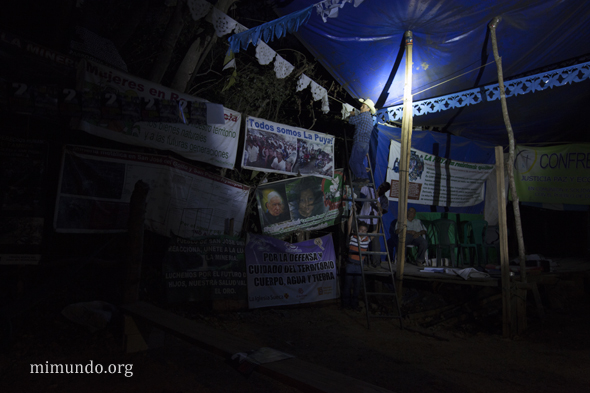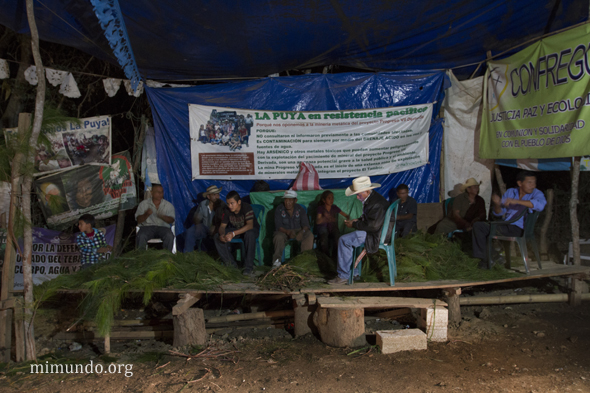 Members of the resistance pick pine needles that will be used to carpet the stage where numerous events and a Catholic mass will be carried out the following day. Using pine needles to cover the floor is a tradition in rural Guatemala that denotes respect.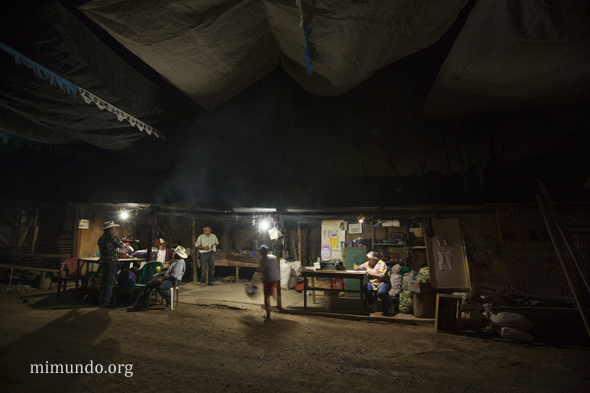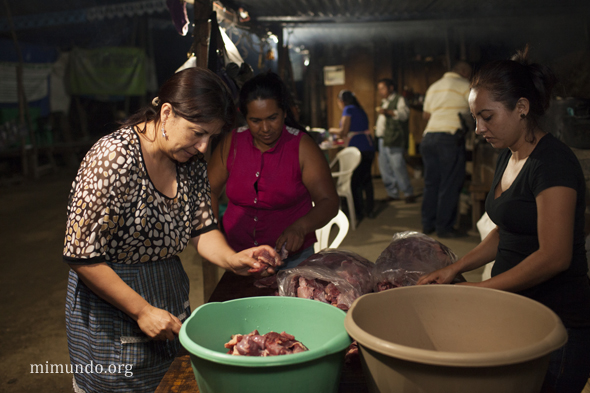 Yolanda Oquelí helps out with kitchen duties by cutting up meat for next day's lunch.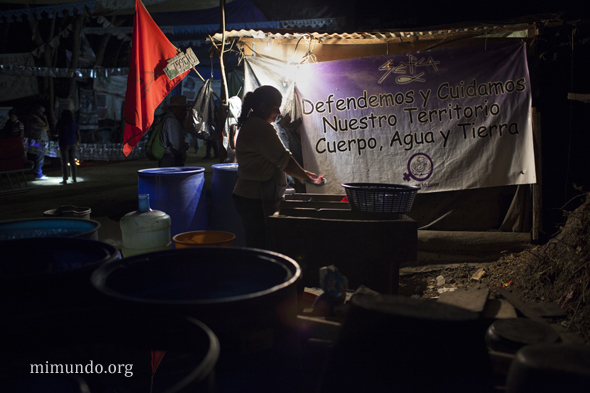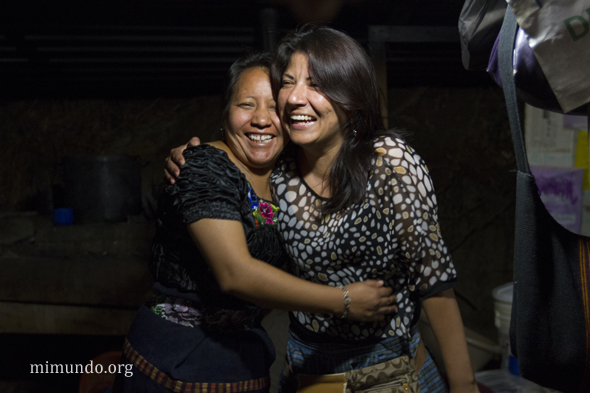 Two of La Puya's leaders share a laugh during the second anniversary preparations: Miriam Pixtun (left), a Kakchiquel Mayan woman from San José Nacahuil, and Yolanda Oquelí, from San José del Golfo.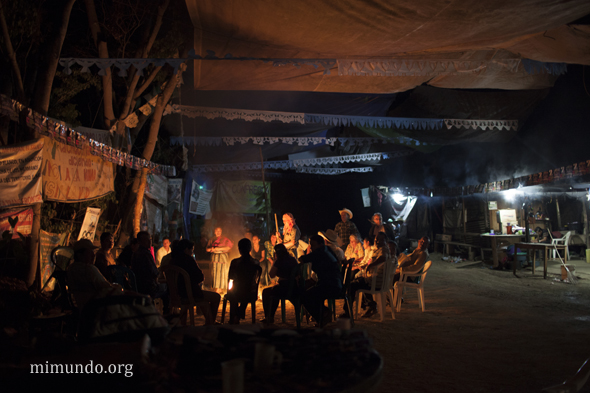 A Mayan Ceremony was carried out all night in La Puya.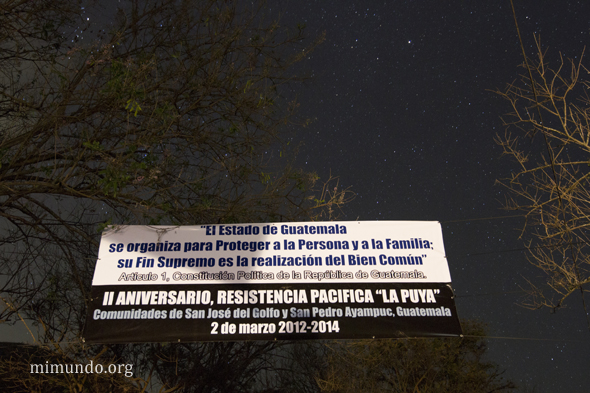 A banner hanging above the camp quotes Article 1 of the Guatemalan Constitution: "The State of Guatemala is organized in order to protect the people and their families. Its supreme goal is to ensure the well-being of all."
March 2, 2014: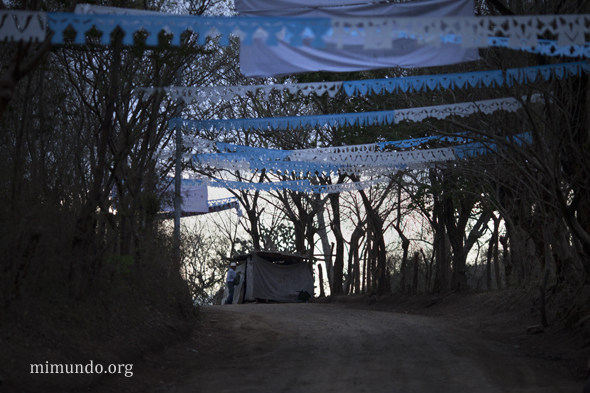 Isabel "Chavelo" Fajardo, from Carrizal, exits one of the makeshift huts where locals sleep on the dawn of the movement's second anniversary.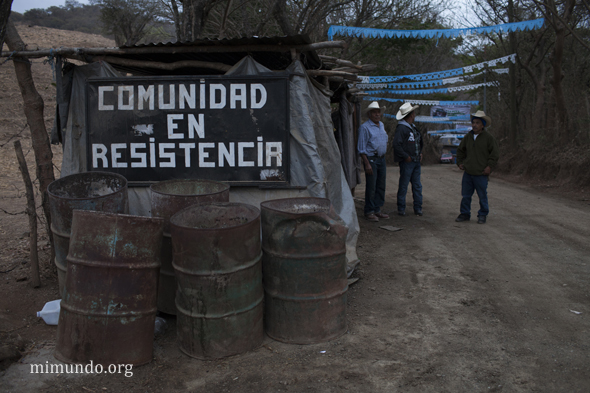 Members of the La Puya resistance exit one of the makeshift huts where a sign reads: "Community in Resistance."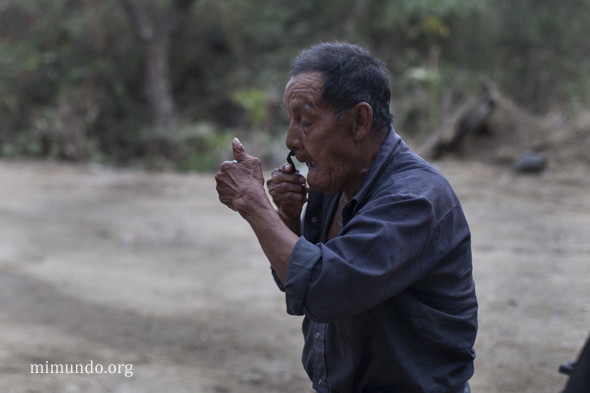 Manuel de Jesus Mota, 75, shaves as members of the La Puya resistance prepare for the long day ahead.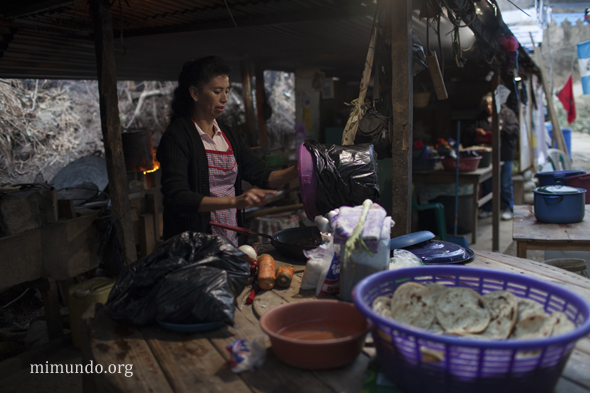 Angelica Oliva prepares breakfast.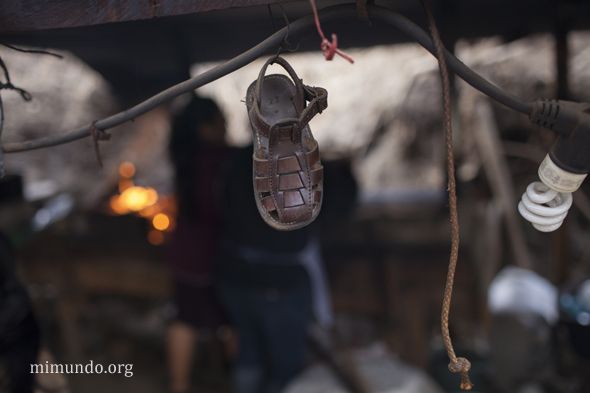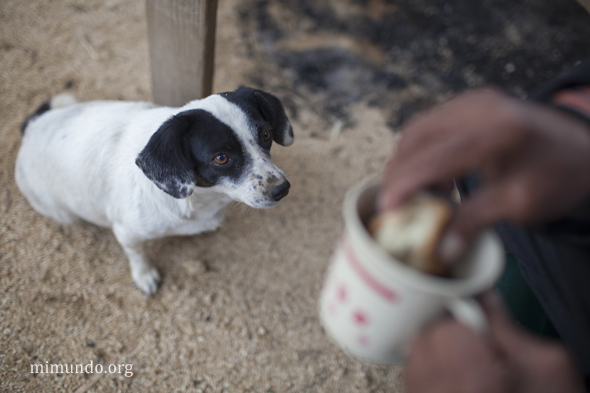 A local dog watches as Manuel de Jesus Mota eats breakfast.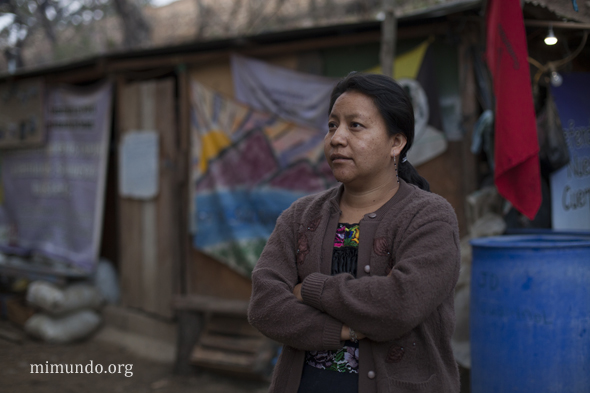 Miriam Pixtun stands in the camp shortly after having woken up.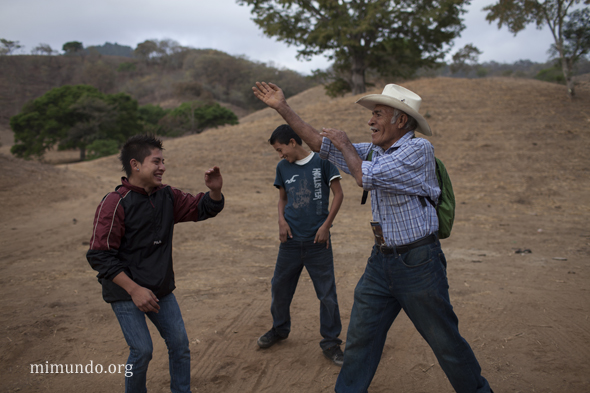 Isabel "Chavelo" Fajardo (right) play fights with some of the younger members of the La Puya resistance during the early morning.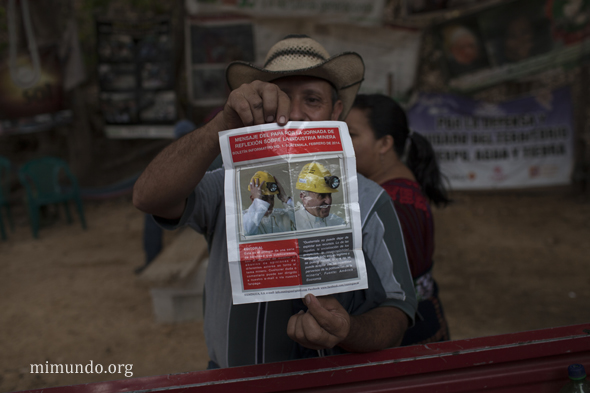 Guillermo Castellanos, from La Choleña, shows a flyer depicting Pope Francis with a mining helmet and text that assures the Catholic Church endorses mining activities. The flyers appeared mysteriously throughout the local communities the day after P&F Contratistas broke its agreement with KCA and removed its machinery from the mining site.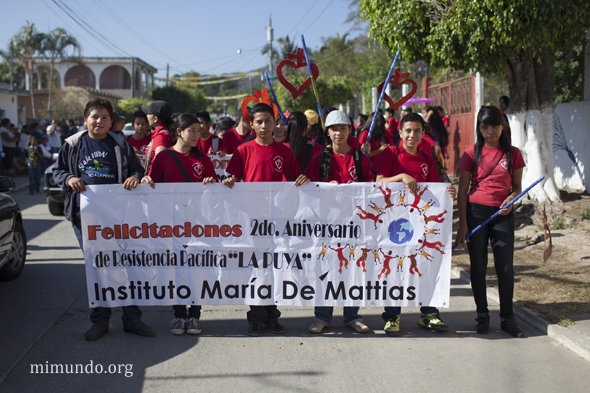 Students from the Maria de Mattias Institute hold a banner as they prepare to participate in the Peace Walk from San José del Golfo to La Puya in celebration of the peaceful movement's second anniversary.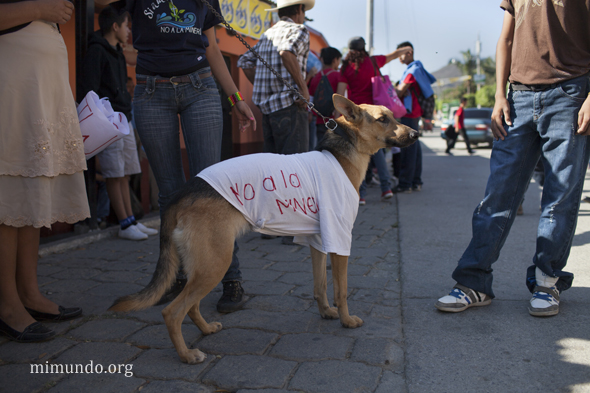 A dog wears a t-shirt that reads "No to mining" as people prepare to participate in the Peace Walk.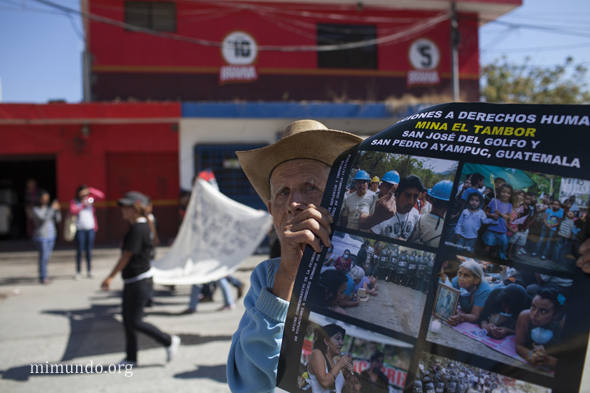 A man holds a poster during the Peace Walk depicting numerous images from the struggle of the La Puya movement. Many of the images are from December 7, 2012, when riot police entered La Puya and attempted to evict everyone present. The police eventually retired as dozens of women and children prayed, sang and laid on the ground in front of the mine, refusing to leave.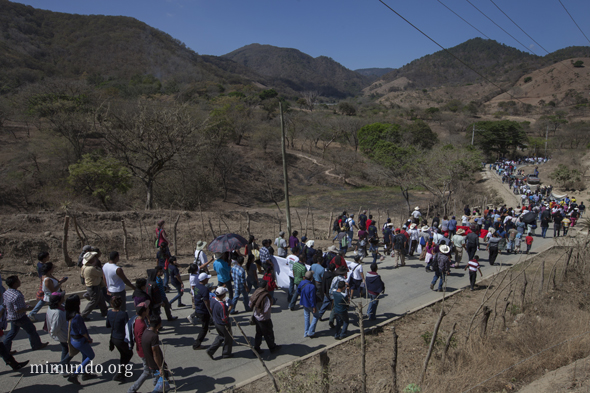 Locals estimate that roughly two thousand people participated in the Peace Walk.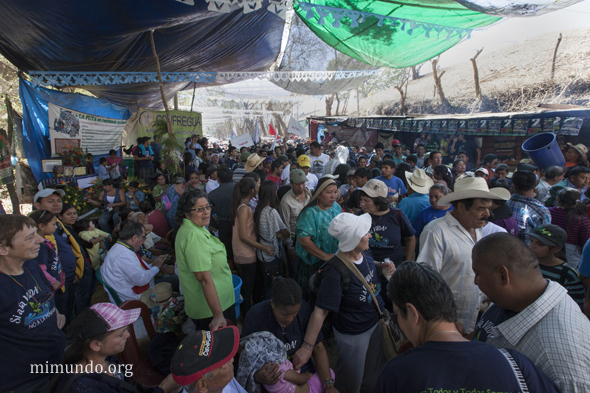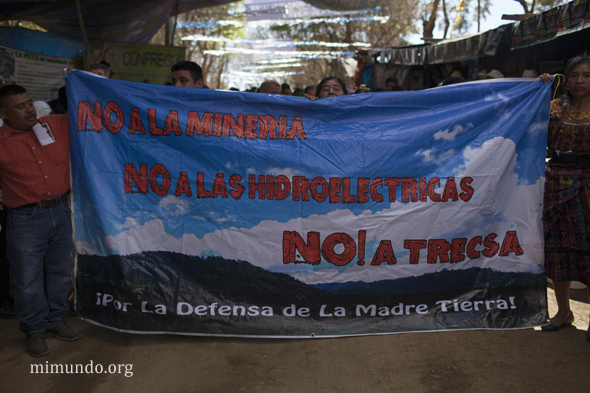 During the celebrations in La Puya participants hold a banner that reads: "No to mining, no to hydro-electrics, no to TRECSA (electric utility company), for the defense of Mother Earth!"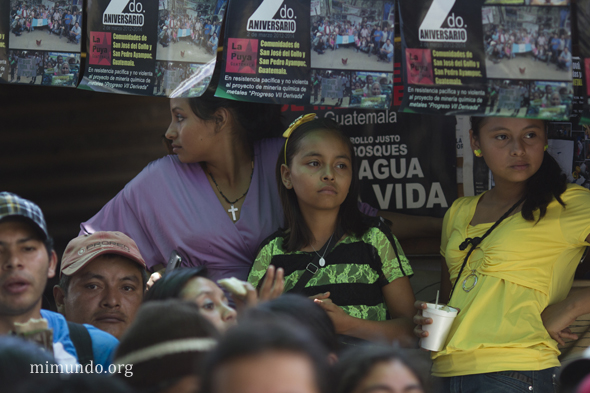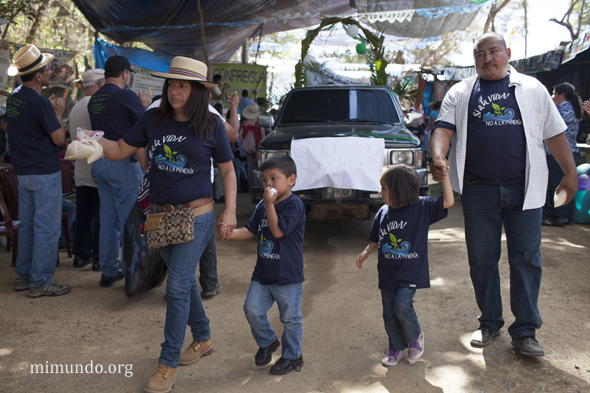 Yolanda Oquelí arrives to La Puya with her son Esteban, daughter Jimena and one of her four permanent Police escorts.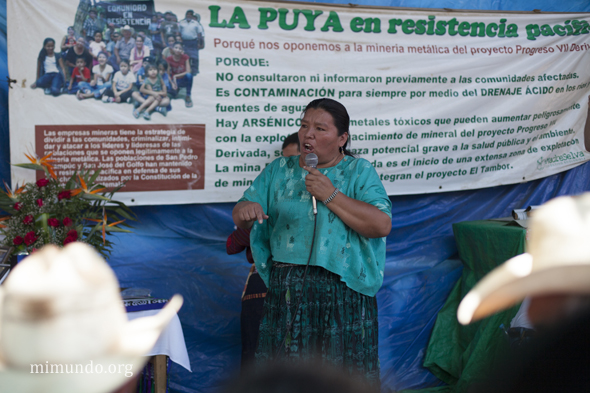 Q'eqchi' Mayan activist Angelica Choc, widow of slain anti-mining activist Adolfo Ich Chaman, expresses her solidarity with the movement. Numerous organizations and activists took the stage for brief moments to show their support and admiration for the peaceful resistance movement of La Puya.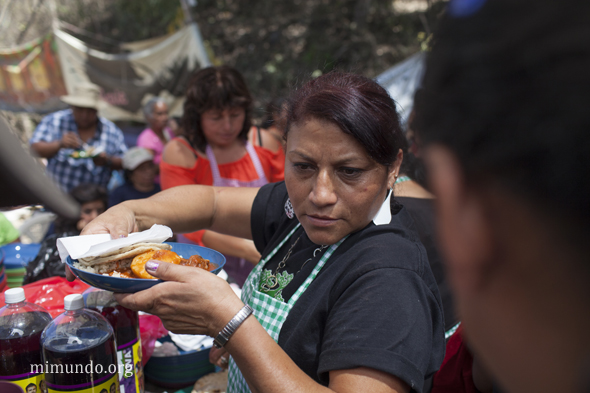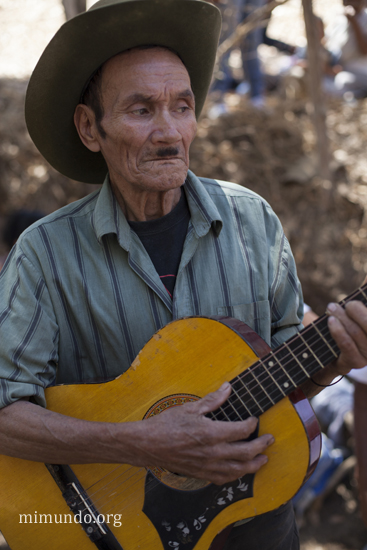 Irineo Camey Lopez, 75, from San Antonio el Angel and member of the "Alegres Campesinos" music group, prepares to take the stage.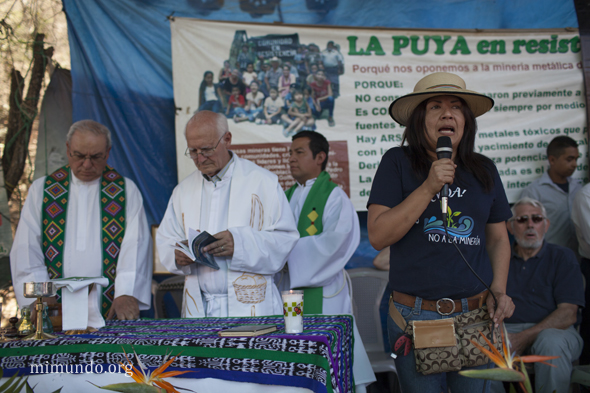 Yolanda Oquelí (right) expresses her gratitude to God and everyone present before numerous priests in solidarity with La Puya hold a Catholic Mass: "Despite of it all, we have had great achievements" states Yolanda. "We thank God for this. And we thank you all for your support. Rest assured we will not give up."
To license images, please follow these instructions and download from this photo collection.
Version en español aquí.
1. Vega, Pavel Gerardo. "Constructora retira maquinaria en La Puya." ElPeriodico. Guatemala, jueves 27 de febrero de 2014. ( http://www.elperiodico.com.gt/es/20140227/pais/243336/ ).