2011-10. Book Cover. The Guatemala Reader (USA)
The Guatemala Reader: History, Culture, Politics
by Greg Grandin, Deborah Levenson, Elizabeth Oglesby
MiMundo.org contributes with Cover photograph and other images inside.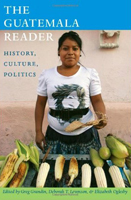 Paperback, 648 pages.
Expected publication: October 27th 2011 by Duke University Press
"This reader brings together more than 200 texts and images in a broad introduction to Guatemala's history, culture, and politics. In choosing selections to include, the editors sought to avoid representing the country only in terms of its long experience of conflict, racism, and violence. And so, while offering many perspectives on that violence, this anthology portrays Guatemala as a real place where people experience joys and sorrows that cannot be reduced to the contretemps of resistance and repression. It includes not only the opinions of politicians, activists, and scholars but also poems, songs, plays, jokes, novels, short stories, recipes, art, and photographs that capture the diversity of everyday life in Guatemala. The editors introduce all of the selections, from the first piece, an excerpt from the Popol Vuh, a mid-sixteenth-century text believed to be the single most important source documenting pre-Hispanic Maya culture, through the final selections, which explore contemporary Guatemala in relation to neoliberalism, multiculturalism, and the dynamics of migration to the United States and of immigrant life. Many pieces were originally published in Spanish, and most of those appear in English for the first time."
To purchase from Duke University Press.